Native American Restaurant, since 1988
MASTERCARD & VISA ACCEPTED!
AS OF MAY, 2009 - End of an Era!
CLOSED
To be a part of the Swannanoa River Road Greenway

On Thanksgiving Day, North Americans sometimes remember the Indians who gave them their cuisine by dining upon turkey and cornbread stuffing, cranberry sauce, succotash, corn on-the-cob, sweet potato casserole, squash and tomato, baked beans with maple syrup, and pecan pie. Few cooks, gourmets, however, recognize the much broader extent to which American Indian foods radically changed cooking and dining in every part of the globe Timbuktu to Tibet. Sechuan beef with chilies, German chocolate cake, curried potatoes, vanilla ice cream, Hungarian goulash, peanut brittle, and pizza all owe their primary flavoring to the American Indian ... J. Weatherford, Indian Givers, 1988
PLEASE NOTE: THIS PAGE IS PROVIDED VIA MOHICAN PRESS FOR INFORMATIONAL PURPOSES ONLY! IT IS NOT THE SOTR WEB SITE!
Look over your choices ... savor every anticipated bite ... then decide!!
A highly recommended site of the 2002, 2004, 2006 and 2008 Great Mohican Gatherings!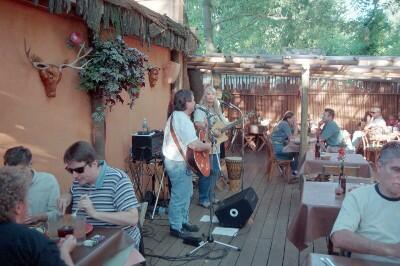 Dining on the back deck at Spirits on the River
SPIRITS
Spirits on the River
571 Swannanoa River Rd
Asheville, NC 28805
828-299-1404
BACK TO: 2002 GREAT MOHICAN GATHERING
BACK TO: 2004 GREAT MOHICAN GATHERING