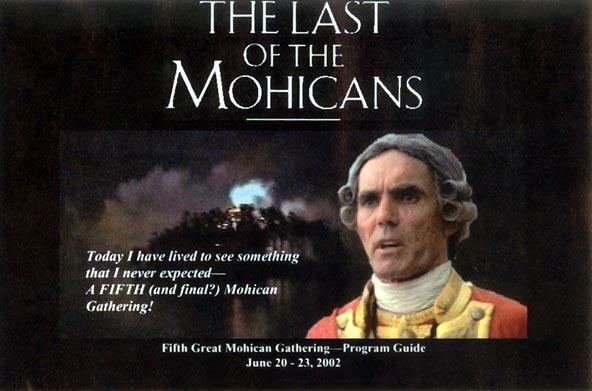 A personal reflection ....


Imagine ... imagine you are in a company of perhaps 80-100 soldiers. You are sent into battle with comrades you have trained with, laughed with, cried with. Your company suffers very heavy casualties. The next time you muster up, there are perhaps only 50% of you left. You look around. Many friends are gone. Imagine ...


I felt very much like that as I planned & prepared for this Gathering. I wasn't sure I was doing the right thing; wasn't sure I even wanted to proceed. Yet, something kept driving me, and though I was looking forward to "getting it over with" more than anything else, I proceeded forward into what I felt was the unknown. Certainly, I was looking forward to seeing some of the familiar faces I've come to know & love, and I definitely felt that I owed it to the "newbies" to show them a good time, but other parts of me felt it probably would have been better to just let it lay, with the Wes Studi-themed Gathering 4 the Grand Finale of it all! The events of September 11, 2001 also played a part ... a large part ... in the dismal outlook. It took months for me to somewhat shake the horrible feelings of that day and begin to feel like a Mohican Gathering might even remotely seem appropriate. Those feelings aside, I believe that once committed, stay the course ... and so the Great Mohican Gathering of 2002, with much assistance from fellow Mohicanites, was allowed to be born.
As the time drew nearer, I had flashes of excitement, periods of the blahs ... no matter how hard I tried to just go with the flow & let it be whatever it would turn out to be, it kept coming back to, "well, maybe I shouldn't be doing this." It seemed, too, that Murphy's Law was settling in, and just about everything that could go wrong did - delays, unexpected expenses, key cancellations - and all that compounded the gloomy feelings. In one way, it all very much felt like the first Gathering in 1998 - so much was unknown - yet for me it was lacking in that overall sense of euphoric excitement. And it all - or, mostly all - boiled down to so many missing faces as the root cause! It would have been oh-so-very-easy to allow the past dispute & ugliness to pervade & let the Great Mohican Gatherings die a rather unseemly death ... tombstone & all ... ala the old Mohican WWW Board. But like the old Mohican WWW Board, which has found rejuvenating life & exuberance in a new, revamped format ... well, I'll let the Gathering of 2002 tell its own story ... but, before I do, some key moments & unknowing inspirers:
Diane Bunch writing an innocent E-mail to me where the unspoiled excitement of a soon-to-be new Gatherer allowed the freshness & enthusiasm of the Gatherings to once again seem possible to attain

Jayne Langan stepping forward as a worthy successor to head up Ariel's Auction, allowing the Gathering to remain something more than simply a good time

Ann Colby & her never-dying positive outlook

Kate Penman rejoining the cause & helping to push for participation in Ariel's Auction with an impassioned plea
So, I went on down to the Geneva, in Chimney Rock Village, on Wednesday evening, June 19, carrying with me much consternation, trepidation, a little hope, and a brand-new Gatherer, Ariel Segal who I had just picked up at the Greyhound terminal in Asheville. The hope began to swell, and the fears to subside, as we pulled into Hickory Nut Gorge on a early summer's late afternoon. The sun drenched cliffs were a welcome, and invigorating sight, the familiar feel of The Gathering Place at the Geneva, filling with raffle items of all descriptions, not to mention folks I really cared about, all began to jell, beginning to create that special mix of Gathering magic that has been the Gathering's trademark.
I returned home that night feeling a lot better about things, and then ...
Follow the caravan flag through the Gathering's events!


or, jump to:
DAY ONE || DAY TWO || DAY THREE || DAY FOUR ||
GATHERERS' PHOTO GALLERY

We would like to thank the following who were so instrumental in the success of this Gathering:
French Broad Rifles Muzzleloading Association, Bill Miller & the Cherokee Nation singers & dancers, USA Raft, Phillip "Flip" Bell of Spirits on the River, staff of Chimney Rock Park, Skyland Arts Cinema, the Geneva Riverside Lodge, Louise's Famous Rock House Restaurant, and all the fine folks who were in attendance!
THIS GREAT MOHICAN GATHERING WAS PUT TOGETHER BY:

Rich Federici ... Overall coordination, itinerary, movie arrangements, communication/publicity
Ann Colby ... Opening dinner, competition & music coordination
Ros Haddon ... Group accommodation & general raffle coordination
Sharon Hurley - T-Shirts
Eric Hurley ... All the duties associated with a good Soldier #2
Chris Boone, Mary Garland, Stephanie McCulloch ... Program Guide [two brand new Piggies]
Jayne Langan ... Ariel's Silent Auction coordination
Vincent Kong ... Car caravan flags
Marc & Cherie Harbison ... CRP coordination & name tags
AND ...
Vincent Kong, Patrick Quinn, Diana Strickland, Theresa Williams, Karen Williamson ... On-site assistance on the trails, with clean-up, etc.

Special thanks to: Lainey [airport "limo" service], Jo Tishler [special PG guidance], Kate Penman [Ariel's Auction support!], & Clabert Menard [intangibles]

Inspiration ... All of you!
Thank you!

Don't forget! Enjoy what has transpired in other years:

THE GREAT MOHICAN GATHERING OF 1998
THE GREAT MOHICAN GATHERING OF 1999
THE GREAT MOHICAN GATHERING OF 2000
THE GREAT MOHICAN GATHERING OF 2001
THE GREAT MOHICAN GATHERING OF 2004
2006 GREAT MOHICAN GATHERING
2008 GREAT MOHICAN GATHERING
THE GREAT MOHICAN GATHERING OF 2010


T-SHIRT DISPLAY

Looking to join the fray?
GATHERING GOSSIP & GANDERS FORUM!

For more on the locations: COMPANION GUIDE PHOTO PORTAL || HOW TO PURCHASE THE BOOK ... Ordering Information

Questions? Use the E-Mail Button below! We'll be happy to assist!

The tune, "The North Wind," used by the permission of Ron Clarke