PATHFINDING ... Walking the Trail ... THE BOOK
GREAT MOHICAN GATHERINGS ... Past, Present & Future
THE SCRIPT ... The Complete Collection of Scenes From the Film
HISTORY & THE LAST OF THE MOHICANS ... Seeing Through the Distant Haze
MOHICANLAND MUSICAL MUSINGS ... A Musical Interlude
MOHICAN PRESS TRADING POSTS ... Storefronts on the Frontier
OFF THE BEATEN MOHICAN TRAIL ... Mohican Merriment
ON THE SCENE AT FORT WILLIAM HENRY
WHAT MAKES IT ALL WORTHWHILE ... Visitor Comments
ACKNOWLEDGEMENTS & APPRECIATION
MOHICANLAND LINKS ... To Other Sites
FORTHCOMING:
AUTHOR'S EXPANDED EDITION! NOW AVAILABLE!

Jumonville Glen & Fort Necessity ... in the History Pages!

On the Trail Web Site history! ... in the Off the Beaten Trail Pages ... first installment is there now!

The entire Web Site ... on CD ... offered for the price of postage & a blank CD ... just as soon as we feel the site is semi-"complete"!

A book? On LOTM? From Cooper to Mohican Press? Could be! See: LOTM DISSERTATION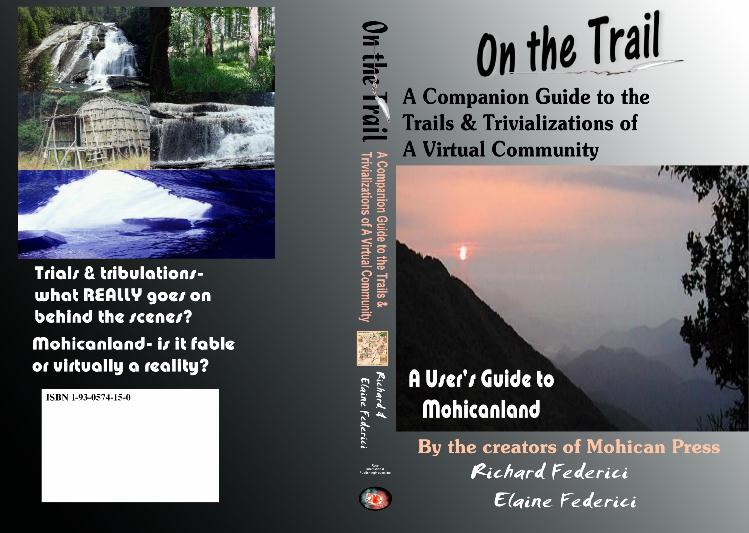 The once-cover of our defunct volume, On The Trail ... instead, portions can be viewed online, at: COMPANION GUIDE PHOTO PORTAL

This may yet find itself, in its entirety, here on the web site!

---
In the beginning, we had this little 62 page full-color photographic guide booklet, On the Trail of the Last of the Mohicans, that needed a place to be seen. A Web Site, of the same name, came into being for that purpose, and that purpose alone. Soon, very soon, and very unexpectedly, the Site began evolving, rapidly, into an interactive forum. We began to realize our vision and it was to create a living, breathing monument to a little, but classic, piece of Americana.
Thus, this Web Site exists. Well over 300 Internet pages worth; over 1700 images; dozens of sound clips & videos; thousands of bulletin board messages; contributions, some on-going, from many, including quite a few folks involved in the filming; a virtual reality, known as Mohicanland, with its central meeting place being a tavern called Bumppo's; a two-year partnership with one of the film's stars; 5 Great Mohican Gatherings, with a sixth in the works - a real-life come-to-life of our Mohican Board; 2 Director's Cut Drives that helped push for the release of the Expanded Edition of LOTM on DVD; conflict with the BIA, Mohican Tribe, porn rings, fan clubs, and French chefs ... oh, what a ride!
All that arose out of a so very modest beginning - about 6 short web pages on a 2MB bit of server space, of which we used but a fraction. It expanded, rather rapidly, to 500MB ... then 800MB. Today, we have a full GB of server space devoted to this endeavor. As the Site grew, we were hard pressed to keep it from growing out of control. The original skeletal structure was not conceived with such rapid, and varied, growth in mind. In fact, it was conceived with very little in mind at all. It was our first venture into HTML, and we knew virtually nothing about it. As a consequence, the Site was pieced together on the fly, with a series of menu pages & indexes to help a visitor find their way through the ever-entangled maze.
Little by little, we've attempted to make the structure of this virtual land a bit easier to follow. With so much, though, inevitably, stuff gets lost. Tweaking will undoubtedly continue.
But let's face it ... though we'd never say never, we really can't continue to expand, material-wise, at the rate we once did. There is still history to cover, and a laugh to insert now & then. Of course, if a good interview were to fall in our laps ... or a photo collection, as did during Summer '02 - See: HAIR DRESSERS' PHOTO GALLERY - or something unforeseen ... well, we'd certainly jump at it! So, is the site done? No! It probably never will be ... Cooper's been around a very long time!
One thing is for certain, we have had a magnificent journey as we did what few ever achieve, and that is to catch lightning in a bottle.
So, it's been a natural transition, more or less, to allow the informational side of the web site to give way, at long last, to the interactive side.
Community may be the byword from here on out. We will spend more time cultivating that, and less with our noses in the books doing research ... or on the phone building up hundreds of dollars in phone calls.
Along these lines, you can expect focus in two main areas:

The Mohican Board
Now running on what we consider the best Forum system ... Snitz Forums

And, our beloved Mohican Gatherings ...
now having completed their 6th Great Advent'cha!
See special note: GATHERING ANNOUNCEMENT

Join Us!
See YOU on the trail ... THAT will never end!