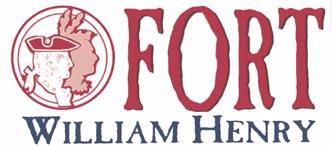 FROM THE RAMPARTS ... The Second Dispatch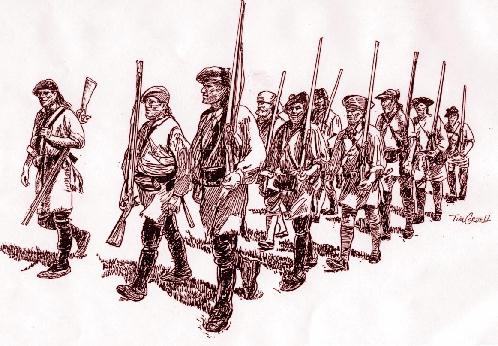 NOR'EASTER. One big snowstorm per week since the beginning of March and now we have to use snowshoes to get around. Fishing through the ice on Lake George has been very productive. Smelt, perch and lake trout make a welcome addition to winter rations. The French surprise raid last week has caused much clean up work and the garrison is still on alert and agitated. The men not only have to fight terrible weather but now a terrifying enemy. Ambush season has begun. The French and their Indian allies are out and no one is safe from Saratoga north to Fort Edward and Fort William Henry. You all know how adept the Indians were at "woods warfare"- the surprise raids, ambush and hit & run tactics. Who taught them these tricks?
I attended an archaeological lecture last summer and was very surprised by some of the new thinking on the modes of warfare especially among the eastern tribes. It is now thought that tribes like the Iroquois and Algonquians may have practiced European style set piece battles as the norm rather than the ambush style. They had armor, shields and spears. They arrayed themselves in lines of battle and shouted insults and boasts across the front to the opposing enemy formations. Samuel D. Champlain witnessed such a battle, talked about it and even illustrated it for us. Champlain goes on to describe the formations and the "armor" worn for battle.
Why would the tribes go to the trouble of making cumbersome armor and weapons unless their NORMAL tactics dictated it? This new thinking is in its formative stage and will be subject to extensive continued research- but it surely makes you think! As far as the plains tribes go, how did they conduct warfare before the Spanish introduced the horse?
It is now proposed that the firearm forced the Indians to change from battle "ground" to raiding & ambush. And, even though the tribes continued to war among themselves, a small number of muskets on the field would make the battle untenable. Further, no tribe had the ability to manufacture firearms or ammunition and would never be able to stand against a European style army. I'll stir the pot a little more. It may be that the eastern tribes were taught the "new" ambush/hit & run style warfare by the Europeans.
Now, here at Fort William Henry we are awaiting ice-out. Some years the ice holds on into early May around the shore of Lake George and there is nothing sadder than a robin standing in the snow over frozen ground after flying up from sweet, warm North Carolina.
My warmest regards, Tim Cordell - March 25, 2001
COMING! In my next report I will have information on Spring & Summer events at Lake George including Fort William Henry, Fort George and especially the newly restored Lake George Historical Association Museum.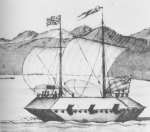 OTHER COURIER DISPATCHES:
ON THE SCENE AT FORT WILLIAM HENRY
LAKE GEORGE/FORT AREA MAP & WALKING TOUR
FROM THE RAMPARTS ... FIRST DISPATCH
FROM THE RAMPARTS ... THIRD DISPATCH
FROM THE RAMPARTS ... FOURTH DISPATCH
FROM THE RAMPARTS ... FIFTH DISPATCH
FROM THE RAMPARTS ... SIXTH DISPATCH
FROM THE RAMPARTS ... SEVENTH DISPATCH
FROM THE RAMPARTS ... EIGHTH DISPATCH
FROM THE RAMPARTS ... NINTH DISPATCH

OTHER RELATED LINKS WITHIN THIS SITE:
FORT WILLIAM HENRY ... The Siege & Massacre
FORT WILLIAM HENRY ... Digging for Clues