Wes Studi
... Meeting Magua Up Close!

"That's the first time I was actually able to sit & enjoy the film. Usually, I'm thinking I should have done this or done that differently. Or, I'm critiquing the other actors. Not this time!"

It was an indescribably unique experience to watch The Last of the Mohicans in the company of Wes Studi. And so, I will not even try to put it into words ...
Prior to the film, Wes did a stand-up presentation, running down the impressions he had of the various cast members he worked with in that movie. He was absolutely hilarious. Following that, a brief Q & A period took place. We then watched the epic film, and ended the evening with a more extended, and much more informal, Q & A session.

THE AWARD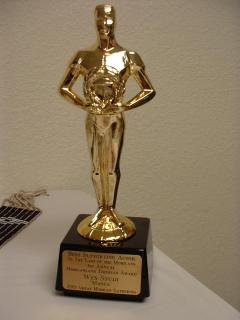 CLICK ON INSCRIPTION TO READ
(Award crafted by Ellen & Mike Ornberg - CREATIVE FRAMING GALLERY - in Marion, NC)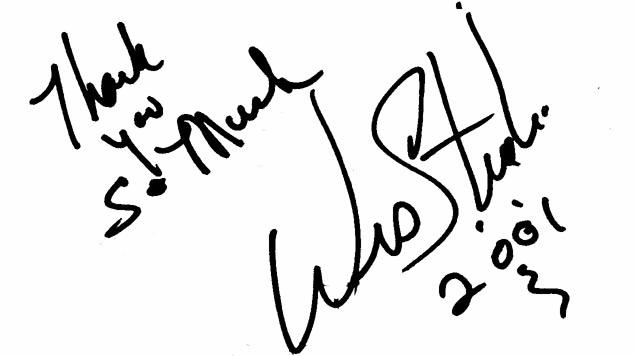 The next night ... Sunday ... Wes, Maura, & Kholan Studi joined us for our annual raffle festivities. Wes signed autographs, posed with Gatherers for photos, and chatted, as Maura sold CDs, videos, & exclusive, on the set photos of Wes. Following that rather extended session, we did our raffles, culminating with the drawing, by Wes & Kholan, of the winning tickets for the James Bama & H. David Wright prints that had been so generously donated to us. Finally, we presented Wes, on behalf of us all, with his long overdue "Oscar" for Best Supporting Actor in The Last of the Mohicans. Wes appeared genuinely thrilled. "These people have TASTE!"
We should add, that the Studis contributed to the Ariel's Auction Fund. We thank them for that, for their congenial nature, and for coming to the 2001 Great Mohican Gathering!

REAL MEDIA VIDEO!

QUOTABLE WES
I am both amazed and I understand why it is that this particular movie would bring so many people together all at once, for no other reason than to celebrate the film.
~~~~~~~
I like to say that we built roads where there were no roads before that ...
~~~~~~~
[REGARDING COLONEL MUNRO] Of course, we can't forget the one man that I had the opportunity to split his sternum, reach inside his glorious self, and bring out the heart ... of Gray Hair ... Maurice Roeves. It turns out he's my best friend! ... Actually, I'd like to announce to you what he told me several days ago: That he is going to become an honest man. His girlfriend of some twenty years is going to make him an honest man ... I think Labor Day ... Labor Day Weekend. He sends his best [to you]!
~~~~~~~
[REGARDING MICHAEL MANN] How can I forget the one man who made this all possible; the one man who put us through Hell; made us feel like stars; made us feel like we could make a difference - like we were really somebody! ... We also felt like killing him several times.
~~~~~~~

THE RAFFLE WINNERS!
CONGRATULATIONS!

AYESHA ROGNLIE


KATHLEEN BRODERICK


SOME WES ONE-LINERS
Q - Wes, what are you working on right now?
A - I'm working on this crowd in Hendersonville!
~~~~~~~
Q [innocently] - In Dances With Wolves, what was it like playing with Kevin Costner?
A - Playing with Kevin Costner? [after looking around the room in mock bewilderment for a few seconds & then deadpanning ...] WHO told you about that!?!
~~~~~~~
Q - What role would you like to play?
A [ without hesitation] - I would like to play a role where I start out as the Devil himself and become God ... Any aspiring screenwriters?
~~~~~~~

PHOTO GALLERY: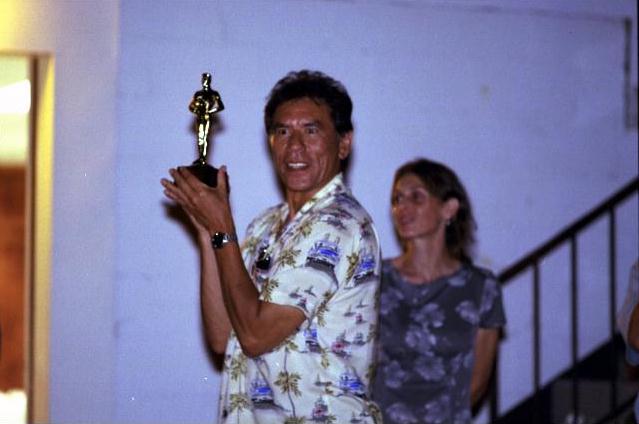 READ OUR INTERVIEW WITH WES: MEETING MAGUA: A WES STUDI INTERVIEW