SHOPPE CLOSED -- NO LONGER AVAILABLE!

Quill & Bead Earrings
SakaXha`hun`a
New Colors!

Porcupine quills were used to decorate most anything that would accommodate quill work. Bark containers, deer skin clothing, moccasins, and jewelry were among the many items typically adorned with quills.
By the 18th century, European trade goods had become so common that Eastern Indian women were increasingly blending traditional materials with European goods such as manufactured trade beads, silk threads, woven cloth, and metals. The result was beautifully made clothing, baskets, and jewelry that made use of the many available materials. These influences brought forth new styles and techniques .
~~~~~~~~~~~~~~~~~~~~
Quill & Bead SakaXha`hun`a (earrings) reflect these changing styles by combining native porcupine quills with European trade beads. Tiny Czech seed beads are strung in a two - color floral design (unless a single color is requested) on SILK thread. The color pattern can be reversed. Quills are dyed green, red, light rose, or left natural. Earrings can be ordered in various bead color combinations.
Earrings are strung on Stainless Steel French Wires unless Kidney Shaped Wires or Non-Pierced Clips are requested.
Each pair of earrings is packaged in a black or plum colored, flocked drawstring bag which help to keep the quills protected. A free pair of clear wire protectors are included with earrings on French Wires. (Small jewelry boxes are available instead of drawstring bags.)
The Quill & Bead Earrings shown below are only samples. Choose any bead color combination ... white, black, red, light blue, dark blue, light green, dark green, wine, maize, brown, etc.
Wani` shi!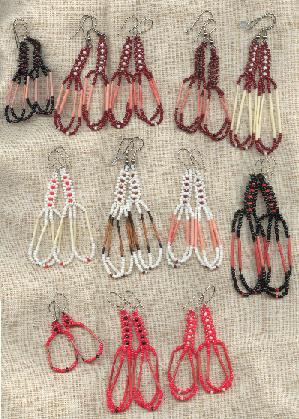 Rose Colored Quills!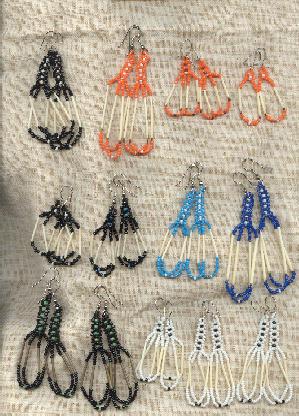 Prices
Small Single Loop Quills - Item # QE1 $5.00
Small Double Loop Quills - Item # QE2 $7.00
Large Double Loop Quills - Item # QE3 $14.00
Extra Long Quills (Earrings Are 3 Inches) - Item # QE4 $15.00

Packaging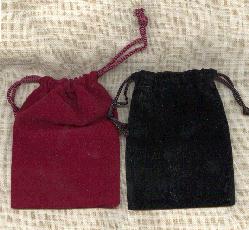 Choose Black or Plum colored Drawstring Bag
- or a cotton filled Jewelry Box.
Strung Wampum & Heishi Earrings ... CLOSED!



Return to