Due to the "War" on Java, this page will probably not display correctly in your browser any longer. Please utilize the Table of Contents Button at the bottom left of this page to navigate to any of the Shoppes in the Trading Post!

A purchase here still goes a long way towards keeping this web site up & running! Keep us in mind at gift giving times!



ALL NEW! AMAZON.COM/LOTM STOREFRONT
Welcome to Mohicanland's Main Square & Trading Post ...
where yesteryear's wares & contemporary crafts are combined
to offer a unique, virtual frontier of Trade Goods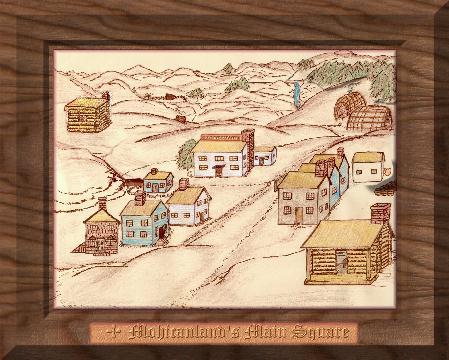 Use PayPal, A Free Service, To Pay For Your On-Line Purchases1


This establishment appreciates your patronage!

MOUSE PADS - T-SHIRTS - MUGS ... ALL INSIDE!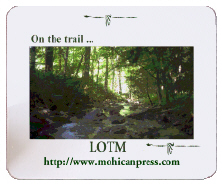 Mohican Press Cafe!!!
VISIT!
EXCLUSIVE LOTM LOCATIONS_THEMED GEAR!

- Browse Mohicanland's Main Square's Book Shoppe where you can find LOTM & French & Indian War related books, historical novels, DVDs, CDs, videos, & sundry titles. All items, with the exception of our own On The Trail Of The Last Of The Mohicans & Mark Baker's Sons Of A Trackless Forest, are purchased directly through Amazon.com.

DEPENDING ON YOUR BROWSER SECURITY SETTINGS, YOU MAY HAVE TO CLICK ON THE LINK CONTROLS BELOW TO ACTIVATE THEM!
MUST BE JAVA-ENABLED ~~ WORKS BEST ON IE OR CHROME!

- In cooperation with the award-winning HPS Simulations, 3 great early American conflicts you can recreate on your PC. Hours of fun and educational, too! Contain campaign games, individual scenarios, scenario editors, free downloads, and much more! Great stuff!

- All new line of beautiful and authentic wampum jewelry ... made by the Navajo Nation. Buckles, bolo ties, necklaces, earring, and more! Loose beads also available!

- Posters from the latest films of LOTM cast members. Use the search box to find other themed poster sets!

- Tried & true merchants on the Internet selling replica wares from the American frontier of 1757. Outfit yourself in the "latest" fashions ....

- Direct from the northern territories of New France! Northern Nights Dream Catchers are hand woven by Kihew in the finest Algonquian tradition.

- NOW FREE! - A custom designed LOTM Screen Saver, anyone? - Now works with XP, Vista, Windows 7 & 8!

- AVAILABLE DIRECTLY FROM WAYNE WATSON AND - Maybe - PENNSYLVANIA LONGRIFLES ONLY! Authentic, handcrafted replicas of THE most celebrated rifle in frontier history! Finely crafted, fairly priced reproductions of Hawkeye's "Killdeer" rifle available only in Mohicanland's Main Square ... so, grab yourself a "musket"! [Other flintlock styles available, also!]

- CLOSED! ITEMS HERE ARE NO LONGER AVAILABLE THROUGH THIS SHOPPE! The Francais Trader has acquired yet more Wampum goods! Woven bracelets are now available at the French Trader's Post, along with his exquisite reproductions of Hawkeye's Wampum Sash & Chingachgook's Wampum Choker. Sorry - will not trade Wampum for Brandy!

- CLOSED! ITEMS HERE ARE NO LONGER AVAILABLE THROUGH THIS SHOPPE! - The Mercantile offers various goods to procure ... Tea ... Chocolate ... Mirrors ... Tools ... Clothes ... all inside. Well, almost. Mirrors, Trade Silver, Earrings - including Uncas' Earrings. [SEE LINK INSIDE!]
- CLOSED! ITEMS HERE ARE NO LONGER AVAILABLE! - Porcupine quill & bead creations!

- CLOSED! ITEMS HERE ARE NO LONGER AVAILABLE! - Therapeutic Teas from China ... Organic Herbal remedies ... Green Tonics for what ails you ... See what the Mohicaan Bountyess has on the shelf!

- CLOSED! ITEMS HERE ARE NO LONGER AVAILABLE! - The Mohicaan Bounty Millinery carries period hats & caps, including Alice's Pinner Cap & the colonial woman's Mob Cap. Aprons, Wooden Fans, & sundries. The proprietress, however, will NOT powder those nasty wigs!

- Though this Barzso LOTM Playset is not offered for sale through us, we provide shelf space for its advertisement SOLELY as a courtesy to LOTM fans. Enjoy! - SOLD OUT! SORRY!


Mohicaanize your world!

Please Note!! We have absolutely no affiliation with the Mohican Indian tribe. Any use of the name "Mohicans" is borrowed from the title of James Fenimore Cooper's classic novel. None of the items offered for sale on these pages are crafted by Mohican Indians, though some, as noted, are made by North American Native Craftspeople.


View the results of our
MOHICAN PRESS VISITOR POLLS

Last Update: 03/02/2019