MORE FROM UNDER THE MAKEUP TENT

... Transforming Imagery To Film
A Selected Assortment Of Photos From TranformationFX, the folks who headed the make-up & special effects department of The Last of the Mohicans.
... Special thanks to Jeff Goodwin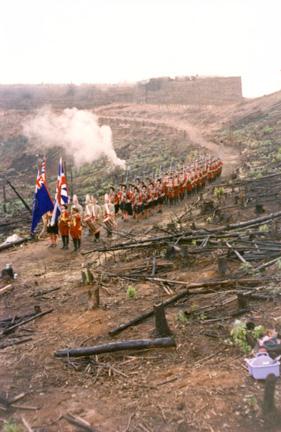 Following the surrender, British troops rehearse evacuating Fort William Henry through the smoldering battlefield.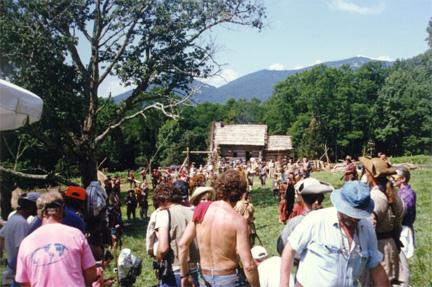 Compare this picture of the day activities at Cameron's Cabin to that found in the book, On The Trail Of The Last Of The Mohicans (below), of this film location.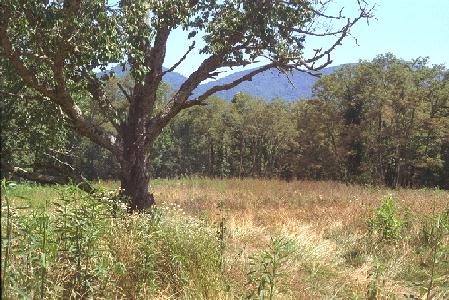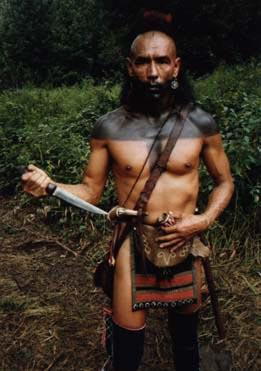 Wes Studi, as Magua, in full war paint ... Ready to de-heart Colonel Munro!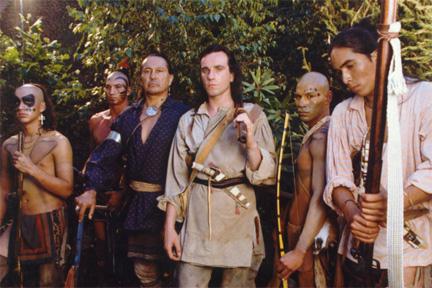 Our 3 Mohicans, Russell Means, Daniel Day-Lewis, & Eric Schweig - Chingachgook, Hawkeye, & Uncas - mingle with their foes, Huron warriors!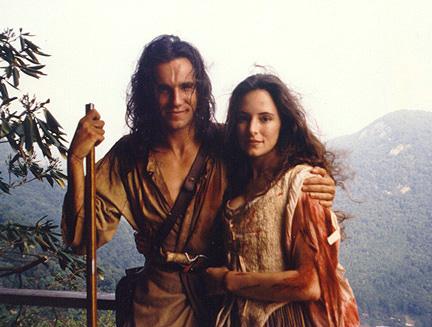 The "stars" of the film; the romantic leads ... Daniel Day-Lewis (Nathaniel Poe/Hawkeye) & Madeleine Stowe (Cora Munro) at Chimney Rock Park.

Used by permission. Please do not reproduce!

SOME MORE ... FROM THE ARCHIVES!
These Courtesy Of Connie Boyer & Eric Hurley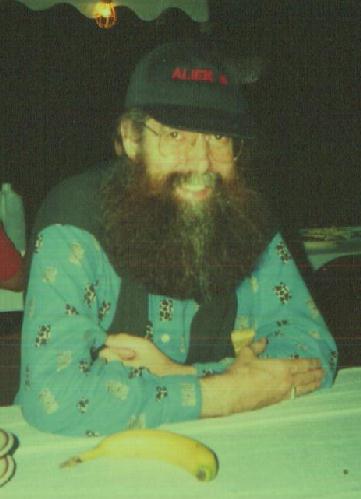 Someone from the theatre told me they were making a big movie in town & needed lots of makeup artists. He gave me the # to the local production office. I think the office help was new because they sent me straight to Peter Robb-Kings office. (That's kindda like sending someone auditioning as an extra straight to Michael Mann's office!) I was met at the door by a very sweet British gentleman whose ponytail & beard both almost reached his belt! He very kindly read my resume & even acted impressed. If I knew then what his resume consisted of, (Rocky Horror Picture Show, Aliens, Patriot Games & all the big ones!) I would have never shown him mine! He hired me on the spot! Peter always treated me as though he had complete confidence in me, on & off the set. He taught me a lot and gave me the opportunities of a lifetime! I called him twice after that for jobs. Once, for "Somersby", then "The Fugitive". Both times he gave me the jobs. Of everyone I have met in my brief film career, he will always be the special one ... Connie
LEFT: Make-up director, Peter Robb-King
Make-Up, FX, and Stunt People Mini-Gallery: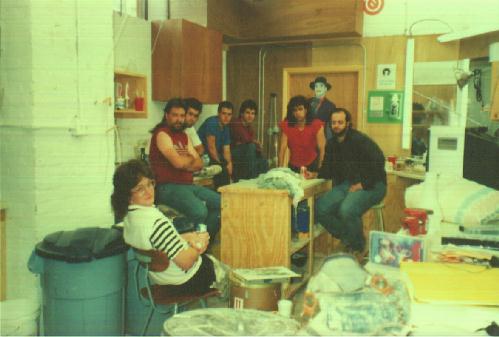 (ABOVE) the fx makeup people. These are the guys who made wounds look real! These guys were all from the north (NY & NJ) They felt very out of place in the sticks! They didn't socialize much with the rest of the cast & crew.......Then, I met the gang leader (Vinnie Guastini, last on the right) I invited them to a big crew party. We ALL piled in my little car & went! I introduced them all as my date! They soon mingled & became part of the gang. (Vinnie & I still stay in touch) ... Connie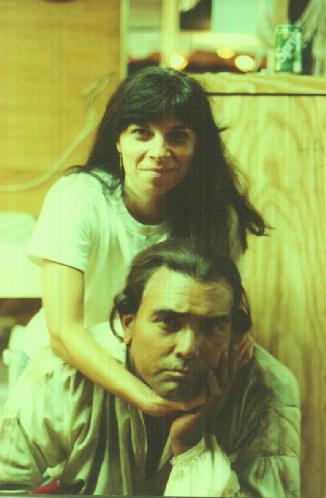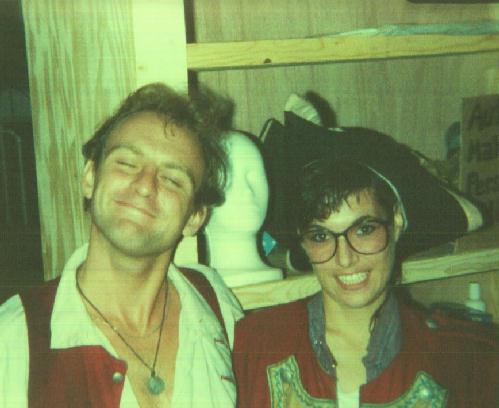 (L) MY very best friend in the world! Linda Biondo with her buddy Richard Duran (LA stunt guy). She & I met at the beginning of lotm & have been thick as thieves every since! (She started in make up then hair) ... Connie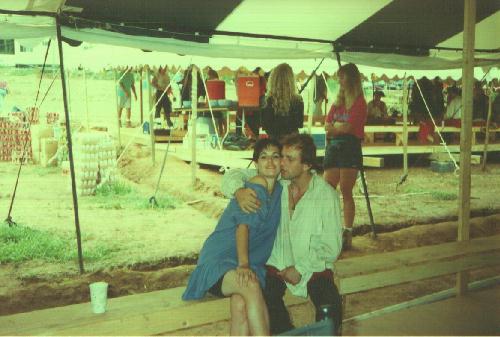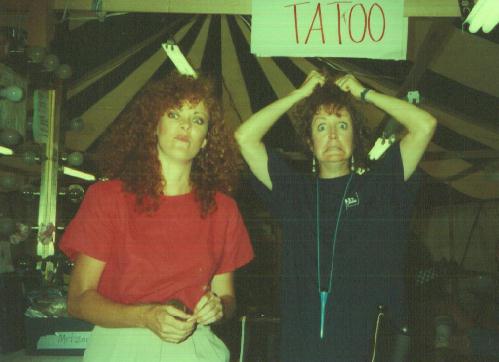 (R) Joan & Mitzi Gunter (my immediate super) this was at Lake James. Mitzi was a little stressed! ... Connie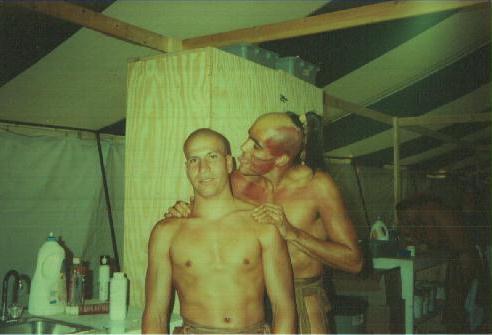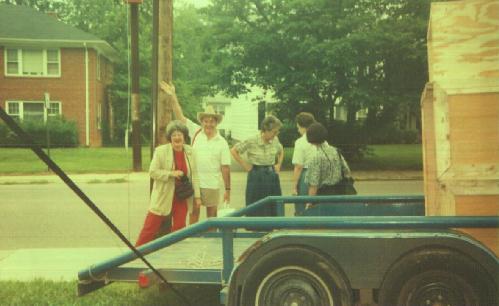 This was in the middle of downtown Asheville. We were shooting the scene where Duncan goes to see Webb. Some fans were shooting our pictures. I grabbed my camera and yelled ,"smile!" They did! It is one of my favorite pictures! ... Connie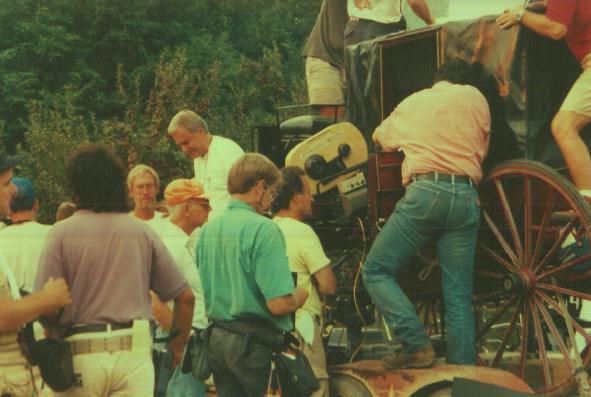 Michael Mann (center) readies a shot inside the carriage during the Albany sequence!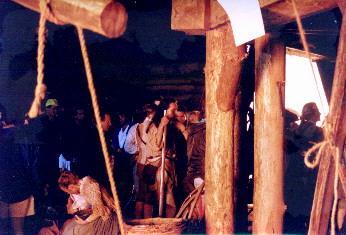 Hawkeye on set!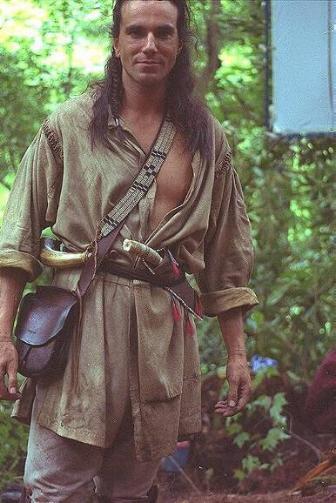 Daniel Day-Lewis ... Nathaniel Poe

Another Make-Up Site:
For MORE Photo Galleries, See:
SOLDIER #1 PHOTO GALLERY || SOLDIER #2 PHOTO GALLERY || THE FILMING AT LAKE JAMES || UNDER THE MAKE-UP TENT || PRE-PRODUCTION PHOTO GALLERY || PRESS KIT PHOTOS || MOHICAN PRESS LOTM SCREEN CAPTURES