MORE MOHICAN MUSINGS

Want to post your own Mohican Musings? Visit our MOHICAN WWW BOARD, or e-mail them to us with a request to post. We'll be happy to oblige.
Looking For Something? Go To The MOHICAN MUSINGS INDEX.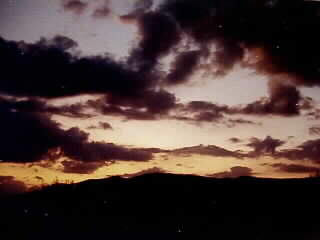 "Dawn. At the encampment ... See to it you're there!" Well, actually this is dawn at the Fort Site ... July '91.
Photo courtesy of Curtis Gaston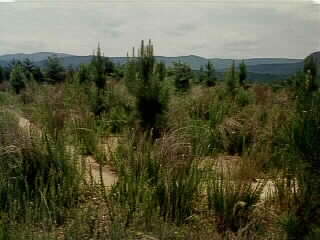 The Fort site today. This view is away from the Lake. Those are the foundations visible in the foreground.

As beautiful and perfect all the various locations used in the film are, they often were actually second choices. Clauses about designated National Wilderness Areas and other red tape frequently made filmmakers look elsewhere. Among the sites the production was forbidden from using, though they very much wanted to, were Hawksbill Mountain, Catawba Falls, Craggy Mountain and Lost Cove Cliffs. So, if you ever decide to follow the Trail, remember that there are a host of other gorgeous & remote settings, which never made it to film, that you can visit while here as well.

Casting calls for extras began on April 6, 1991 ... hundreds lined up for their chance at fame on that first day, with many more to follow. Needed were men (particularly those with long hair), women & children. A special request was for Native Americans. Many from the Cherokee Reservation in the Great Smoky Mountains responded. Following is an article from The Morganton News Herald giving one extra's view of the filming ...
When Eric Hurley was cast as a British soldier for The Last of the Mohicans, the Morganton native was told he and other aspiring actors were cast for the part because they "looked British". Hurley found this reasoning to seem somewhat ironic since he is of Irish descent, and the Irish have traditionally been opposed to all things British. Nevertheless, Hurley and other young men were chosen to participate in an important part of the production, which was filmed in western North Carolina during the summer & fall of 1991.

In late April 1991, Hurley auditioned for a part in The Last of the Mohicans at the City of Morganton Municipal Auditorium along with several hundred other people. At the time, the 24-year-old Hurley had long hair - a characteristic filmmakers were looking for as they were trying to recreate the French & Indian War era of the 1750's. Hurley was picked by casting directors to be a part of the British 35th Regiment of Foot, an 18th century military unit which would be used for the movie's battle scenes. Although fictitious (Note: Wrong! The regiment existed & participated in the historical events depicted in the film. See Mike Zeares' post HELLO & SOME REGIMENTAL STUFF!), the regiment was in almost every sense a real military unit. The "commander" of the regiment was retired U.S. Marine Capt., Dale Dye.

A career Marine, Dye had served in the Vietnam War and in Beirut, Lebanon. But after the bombing of the Marine base in 1983, Dye left the Marine Corps and established himself as a military advisor for such war movies as "Platoon", "Casualties of War", and "Born on the 4th of July". Dye also received small roles in these and other films.

As advisor, Dye wanted to create an "artificial reality" for his soldiers. So, as with other actors trained by Dye, the soldiers in the regiment found themselves doing much more than acting.

"We marched, we shot .75-caliber Brown Bessies," said Hurley, who had never worked in a movie before. "We went through a boot camp. We marched every day. For four weeks we did this, then we trained another company." The regiment was not only training to act as soldiers but also learned how to train other actors. Eventually, the regiment trained 150 other actors for a scene to be filmed at the Biltmore Estate in Asheville. (Note: Whatever that scene was, it never made it to the screen.)

During the summer of 1991 ... the production company arrived at Lake James. At the Lake, a recreation of Fort William Henry was built, measuring 400 feet by 300 feet, by local subcontractor Pryor Gibson. The production company, under the direction of Michael Mann, filmed about three weeks of night shooting and one week of day shooting ... By this time, the difficulties of the production began to take their toll on the cast & crew, Hurley said.

While filming at Lake James, a number of the American Indian extras refused to work until pay & work conditions were improved. The Indians were led by Russell Means, an Indian rights activist who was cast in the part of Chingachgook.

"He made trouble everywhere he went," Hurley said. "He started pushing a couple of our people around and Dale Dye didn't like that too well." (Note: Russell Means has a much different version of this disturbance.) At one point, Means quit the production, Hurley said, and an extra was called in to take his place in one scene. Means later returned.

The filming of The Last of the Mohicans then went to McDowell County where a battle scene was filmed ... "Everyone was getting real irritated at the end," Hurley said. "I've never experienced anything like it."

Leading actor Daniel Day-Lewis was much easier to work with. The Academy Award-winning actor and the Morganton native became acquainted while filming, especially since Day-Lewis was Irish. "He found out I was Irish and every chance he got he would come over and talk with me," Hurley said. "He is a No. 1 guy."

When filming began, the screenplay by Christopher Crowe & Michael Mann included one line for Hurley's character. The one-word line was "Spent" in reference to the soldier's ammunition. The line was later expanded to "Spent. We're out of their range." (Note: This was during the canoe chase.) Eventually, the line was dropped altogether. But, Hurley will receive screen credit in The Last of the Mohicans as "Soldier No. 2". And, Hurley said, he may consider working in future movies. It would depend on whether the movie will be shot locally or whether he will be able to work with Dale Dye again.

"I would go to hell and back for Capt. Dye," Hurley said. "He kind of made me grow up in a way."
For more from Eric Hurley on the filming of LOTM, visit the SOLDIER #2 PHOTO GALLERY.

Another extra, John Callaham, gives this account, also from The Morganton News Herald:
When I heard that a new movie version of the James Fenimore Cooper novel, The Last of the Mohicans, was going to be filmed partially in Burke County, I immediately thought how great it would be if I could participate somehow. Being an amateur actor myself, I always wondered what it would be like to be in a major Hollywood movie. So when Forward Pass Productions announced it would be having auditions for extras in Morganton, I jumped at the chance. I was a little worried I wouldn't get a part because the notice said the production was looking for men with long hair. But I went to CoMMA in April to try out anyway. In June, the call came. They were starting filming in July at Lake James and I was to come and be a soldier. I went to Asheville the Saturday before my call date and got fitted for my costume. At last, I was to find out what it is like on a movie set.
Thursday, July 18
I arrive at the base camp of the production at 2PM to see a long - very long - line leading into the extras' holding area. I fill out my voucher so I can get paid (extras are paid $50 a day, plus meals) and head for wardrobe. Tonight, I am going to play a French Marine. However, it seems the fitting I went for in Asheville was ignored. They simply hand me a costume and show me to the dressing area. I mutter something about wasted gas & time under my breath and head for the dressing area. The costume is made of wool, which is not the smartest thing to wear in the searing July sun. Since we are shooting at night, it would be less of a burden. Another person in the dressing area joked about the new wool clothing diet - "Lose 80 Pounds in 12 Hours". I concur.

The French costume has loads of buttons & strings to fasten and tie on, so it is about 30 minutes before I find my way out of the dressing area and into another line, this time for a hair appliance. The lady attaches a nylon cap to my hair and then puts a fake ponytail on the back of my head. Without my hat, I look like a man who drank too much and put pantyhose on my head to entertain party guests. Finally, I reach the final line where there are people waiting to water and put dirt on us. Apparently, we French are going to have a tired, disheveled look, which isn't going to be hard to fake for me. All those lines will get you tired and disheveled in a hurry.

I finally get a chance to sit down. It is about 5PM and I'm wondering when the glamor part of the job is supposed to start, or to put it another way - "When do we start shooting?" I don't have long to find out. We are called to assemble outside so we can begin moving to the fort. The military advisor for LOTM, retired Captain Dale Dye, tells us we French Marines are going to be laying siege to Fort William Henry. I recognize Captain Dye from his work in Platoon, Firebirds, and tons of other movies. He is a man that commands respect the first time you see him. I was told later he had been training a select group of men for a month prior to filming, teaching them the military procedures they would need to know. I immediately wished that I had been selected to train with him. It would be hard work, but it would also be a one-of-a-kind experience as well. I'm hoping to get a chance to talk to Captain Dye. I know he has some stories to tell.

We move out to the fort around 6PM. Our group walks up the one & a quarter miles to the fort site. Some of the extras forget to wear socks with their shoes and as a result get blisters very quickly. When I finally see the fort, I am impressed by its size. It looks huge. I know, though, that this is a facade and that the other side is nothing but supports for the front of the fort. (Note: Actually, it was a complete fort, as you can tell from viewing the film.)

Our group is split in three. The group that I'm in is assigned to a position on the top of the hill outside the fort. Our mission tonight is, once the signal is given, to pretend to fire our fake muskets and then run down the hill. Not exactly the noblest of missions, I think. Our group, once positioned, is ordered to wait. Meanwhile, I can see the movie people moving their equipment and the other extras into their designated areas. We see several boats on Lake James come around to see the action. We though, must wait ... And wait ... And wait ...

We see the sun go down on Lake James. A beautiful sight. I spot Table Rock which, as any good Burke Countian knows, was the basis for the Great Eyrie where Rodor the Conqueror sent his machines to conquer the world in Jules Verne's novel Master of the World. If the Great Eyrie had really existed, I imagine it would look something like the movie set.

Finally, we are ordered to rehearse our action. The hill we are on is very steep and has tons of debris thanks to the fallen, burned tree trunks, so we have to be careful as we head down. Everything goes well, though, so we now break for "lunch" at 10PM. We march to an eating area to have our meal, spaghetti & meat sauce. It doesn't look very good, but it's hot and I am very hungry. At 11PM, we head back to the fort to finally begin filming.

The filming itself is very exciting, and everything I expected. As we run down the hill, we see and hear cannons going off on the batteries outside the fort and on the fort itself. Mortar set into the ground are exploded. This is controlled chaos. After several takes, Captain Dye says he wants to see our group fire real muskets at the fort. We are given loaded guns (minus the lead balls, of course) and are ordered to fire after the cannon behind us fires. When the moment comes, though, my gun does not fire. Oh well. I'm told that the humidity had dampened the flint on my gun.

Finally, around 4AM, we are told to go home for the day. We get to ride buses this time, and head back to the base camp to turn in our guns & costumes. I am told to arrive back to the set at 2:30 the next afternoon. I get home about 6:30 AM to catch a couple of hours sleep.
Friday, July 19
I decide to arrive a little early to beat the lines, but that plan doesn't work. The trained soldiers get first priority and I'm in the back of the line again. There is a little confusion about who I'll be playing tonight. First I'm a British soldier, then I'm a French, and finally I'm assigned to be British again. The British costume is a little less ornate than the French and a little less heavy. As I am changing, though, a huge, afternoon thunderstorm hits us. Going up to the fort is going to be a little dirty, I think. I manage to finish dressing and head to the hair line, where I finally get a real wig and it looks good, if I do say so myself. The storm finally subsides and we are assembled outside. We are told that we are going inside the fort for another battle scene. While we are assembled, people are dirtying us up again. After that, we sit and wait in the holding area ... And wait ... And wait ...
The sun goes down and we haven't headed to the fort yet. I see the main actors from a distance as they mingle outside their trailers. We are told not to talk to them and I understand that is since we may interrupt their concentration, but it's still a shame that I can't tell them that I've admired their work. At 11PM we head up to the eating area for "lunch". This time it's beef stroganoff, and it's quite good really. We wait until close to 2AM before we finally march to the fort.

The inside of the fort is very impressive, as well. There are buildings, cannon emplacements, even a fake dead horse. The scene is taking place during the siege and Natty Bumppo (Hawkeye - Note: Changed to Nathaniel Poe in the movie.) is checking the fort out. One of the assistant directors calls me over. He tells one of the makeup people to cover me in red food coloring. All right, I think. I'm going to be dead! I'm positioned in the lip of a cannon-created crater. The plan is for three other people to pick me up and move me while filming the scene. As luck would have it, all of the principle actors get to walk right past me, although I doubt I'll be in the shot since my action happens after they pass me. Director Michael Mann, who directed two very underrated movies, The Keep and Manhunter, talks to the actors and the assistant director about the shot. (Manhunter was the first movie to feature the character of Hannibal Lector. I wonder what Mann thinks of Silence of the Lambs.)

Daniel Day-Lewis is much bigger than I imagined, but I guess that's understandable, since in My Left Foot he was sitting all the time. His long hair and frontier costume make him look like a true backwoodsman. Madeleine Stowe, who plays the female lead of Cora Munro, looks gorgeous despite looking a little dirty. I remember seeing a younger Jodhi May, who plays Cora's sister Alice, in a movie called A World Apart, but she's grown up to become a beautiful woman. I'm told that Colm Meany, who plays O'Brian on Star Trek: The Next Generation, also has a part in the movie, but apparently is not involved in the Lake James set. Bummer. I'm a big Star Trek fan and would have liked to have seen him.

We rehearse the scene several times. The three people picking me up are having a little trouble finding a path to take me in all the confusion, but we finally figure it out. The time to film draws nearer. I tell myself not to screw this up. Making a mistake right next to an Academy Award winner is possibly the worst thing that could happen in my life. (Ok, maybe it isn't, but it sure seemed that way at the time.) We film two takes, and both go smoothly, at least from my point of view. Now the final take, which involves a big explosion and stunt players falling near where I am being taken. Director Mann calls for, "Action".

As the actors walk past me, I can hear some of their dialouge. Just as my "rescuers" get to me, I hear a huge, deafening boom as the explosion takes place. I've got my eyes closed, but as the take ends, I'm told it looks real impressive. The director calls for a wrap, as everyone cheers. A job well done. It is nearly 6AM and everyone is looking like they are really filming an 18th century version of Night of the Living Dead. We take the bus back to the base camp, I turn in my wig, props & costume, and head for home for a long period of sleep before I head back Monday. As I am driving home, I'm thinking how the people on the freeway are reacting to my bloody face. I hope I don't cause any accidents.

An extra's life is by no means glamorous, but it is interesting to see how a film really gets made. I have had lots of fun so far, despite the night shooting, and how many people can say they have shared screen time with an Academy Award winner? I can't wait to see the complete film so I can say, "Look, that's me with my face smashed to a pulp." It's a great way to impress women.

In response to an e-mail question ... It's hard to believe, but The Last of the Mohicans was nominated for only one Academy Award, that being BEST SOUND, which it won. Seems it should have been up for cinematography, certainly best soundtrack ... best picture? Of, course! Wes Studi seems deserving of best supporting actor, and maybe Madeleine Stowe for best actress ... if only for the beautiful sequence of expressions she goes through at the Fort after Hawkeye says, "I'm looking at you, Miss." It looks suspiciously like maybe this film didn't quite have the proper "connections".

Bill Bozic, a French artillery officer in the film, contributes this:
... During Mohicans, I recall Elvis' Hound Dog played over the loud speakers at the set on the hill/fort side of Lake James. Everyone got a laugh except the director, Michael Mann! The black cannon balls (basketballs painted black) which bounced after hitting the fort were also good for a laugh ...

Many people have asked about A LETTER FROM DANIEL DAY-LEWIS ... a Handwritten Note From Hawkeye Himself and how we managed to get him to write to us. Well, it isn't much of a story, but to satisfy the curious, here it is:
To the best of my recollection, it was sometime around August/September of 1993 when we received that letter. I had accumulated all these photos - all but the River Walk & parts of Canoes, which though I knew where they had been filmed, hadn't yet been able to visit - but upon discovering the staggering costs involved in self-publishing a 4-color process book ... well, it became apparent that there just wasn't going to be a book (I had yet to own a computer!). So, what to do? I had spent an enormous amount of time, energy & money already. Seemed I had to do something with these photos. I decided to send little photo albums to all the cast members. I started with four - Eric Schweig, Jodhi May, Madeleine Stowe & DDL. Put together an attractive package of the photos & a video I had spliced together of all the locations along with music & excerpts from the film. Schweig's agent says they never received it, May's came back, unopened, marked "Addressee Unknown", never heard from Stowe or her agent at all. It was only 2 weeks or so after I'd sent these packages out. I was out on a tractor, bush-hogging a pasture. Elaine came out & flagged me down. She was waving a letter at me. There was a look of surprise & excitement in her face. I shut down the tractor. There was this creamy colored envelope with that distinctive handwriting on it. I was absolutely amazed! I never expected a hand written personal reply. Probably no reply at all, maybe a form letter from the agent ... That's the kind of guy Daniel Day-Lewis is though. Read what he says. Besides being perhaps the best actor of our day, he's a humble, gracious, personable human being. Maybe he really is Hawkeye!

The Huron Village scene (transcribed on the Script Page) has a reference to the "Huron Castle". The term 'castle' was first used by the Dutch to designate principal Indian villages throughout the Hudson River valley region. Rather than the traditional image of a single fortressed building, the word was used to identify the fortified towns or strongholds of the Iroquois and Algonquians. Generations later, the inhabitants of New York were still referring to many Indian towns as castles and even today one can find Castleton-on-Hudson, south of Albany, on a New York map.

War Clubs
Someone asked: "What was the weapon Chingachgook used to kill Magua?" The rather imposing war club with which Magua was dispatched was typical of the type used by the 18th century Hudson Valley Indians. The Iroquois had two kinds of war clubs; the ga-je'-wa and the ga-ne-u'-ga-o-dus-ha. The first was usually made of ironwood with a large ball at the head. It was approximately two feet long, with the ball measuring five or six inches in diameter. The second, which means 'deer-horn war club', was an elaborately carved and painted club made of hardwood. Along the bottom edge was inserted a sharp-pointed deer's horn of about four inches. At both ends were ornamentations of feathers. This type would have inflicted a much deeper wound than the former, and certainly would have been very dangerous in close combat. Eventually, the deer horn was replaced with a steel or iron blade.
The Lenape had a similar ball-headed war club. It usually had a carved and inlaid face. The handle was shaped like a human leg, with a knee and a foot. There were variations of these types of war clubs used by the many northeastern woodland tribes. Chingachgook's weapon was very much like one of the aforementioned styles. There are many war clubs of the colonial period on display at various New York State museums.
While on the subject of weaponry, Hawkeye's famous rifle, Killdeer, deserves a mention. As he was a hunter, rather than a soldier, a long rifle better served his purpose. The lengthy musket became his trademark, hence his nickname by the French speaking Hurons, 'La Longue Carabine'; meaning 'the long rifle'.

Casting ... certainly one of the strong points of the film. Everyone just seems to fit so perfectly ...
Daniel Day-Lewis ... What can you say? Before seeing LOTM, we had never seen a DDL film, and consequently weren't all that impressed with his performance. After seeing an interview and hearing that strong Irish brogue, and then viewing My Left Foot, our opinion radically changed. DDL is a consummate actor ... his portrayal of Hawkeye is definitive. For moments in the film others find particularly effective, go to HAWKEYE MOMENTS.
Madeleine Stowe ... Undoubtedly her best performance (maybe because she kept her clothes on?) in a strong role. In her own words, "I feel like everything I tried to do is in there." Without question, she lends an air of dignity to the film. Stowe, at least in our minds, has become Cora. To see what scenes have made others feel the same way go to CORA MOMENTS.
Russell Means ... What a surprise! An activist turned actor (and an effective one!). Chingachgook played to perfection! Be sure to visit his site (see our MOHICANLAND LINKS ... To Other Sites page).
Eric Schweig & Jodhi May ... With so very few spoken lines, it is incredulous that they both come through strongly - via looks & body language - as the ill-fated, lovelorn couple, Uncas & Alice.
Steven Waddington ... Another very pleasant surprise. He exudes (supposed) British snootiness & superiority. Duncan could not have been played better. You've just got to feel sorry for the guy, though, in the end.
Edward Blatchford, Maurice Roeves, & Patrice Chereau ... Jack, Colonel Munro, & General Montcalm respectively ... The three all add an essence of authenticity to the film. Simply, it takes no imagination to feel as though they are who they say they are.
Wes Studi ... The ultimate villain ... and then again, he evokes sympathy from you. There is no way ANYONE could play Magua any better. How a nomination for an Academy Award was not forthcoming is beyond our comprehension.
Of course, there are other characters & extras who do a remarkable job of conveying the feel of the day to the viewer. Nobody in the film seems out of place ... 1757 does indeed seem to come alive. It really is a testament to the abilities of the director, producer, writer ... Michael Mann.

FOR MORE MUSINGS, SEE THE
OR
LEAVE MUSINGS, & GO TO:
THE SCRIPT ... The Complete Collection of Scenes From the Film
HISTORY & THE LAST OF THE MOHICANS ... Seeing Through the Distant Haze
HOW TO PURCHASE THE BOOK ... Ordering Information, if you're feeling weak!

Last Update: 10/10/1998