The LAST Of The MOHICANS:
CAST & CREW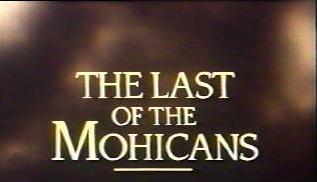 ... And Their Contributions To This Web Site


SEE: AMAZON.COM/LOTM STOREFRONT

CAST
(SOME OF THESE FINE FOLK WERE SCRIPTED ONLY ... NEVER MADE IT, NOTICEABLY, TO THE BIG SCREEN.)
Daniel Day-Lewis ... Nathaniel Poe (Hawkeye) A LETTER FROM DANIEL DAY-LEWIS ... a Handwritten Note From Hawkeye Himself
Madeleine Stowe ... Cora Munro THE MADELEINE STOWE INTERVIEW [Includes exclusive photos!]
Russell Means ... Chingachgook CHAT WITH CHINGACHGOOK: THE RUSSELL MEANS INTERVIEW || 2004 MOHICAN GATHERING DAY SIX ITINERARY || 2004 MOHICAN GATHERING DAY SEVEN ITINERARY
Eric Schweig ... Uncas ERIC SCHWEIG: AN INTERVIEW || ERIC SCHWEIG TALKS CARVING
Jodhi May ... Alice Munro
Steven Waddington ... Major Duncan Heyward
Wes Studi ... Magua MEETING MAGUA: A WES STUDI INTERVIEW || WES STUDI AT THE GREAT MOHICAN GATHERING
Maurice Ro�ves ... Colonel George Munro MAURICE ROEVES: A HEART-TO-HEART WITH COL. MUNRO
Patrice Ch�reau ... General Marquis de Montcalm
Edward Blatchford ... Captain Jack Winthrop MOHICAN MUSINGS ... Part 9
Terry Kinney ... John Cameron
Tracey Ellis ... Alexandra Cameron
Justin M. Rice ... James Cameron
Dennis Banks ... Ongewasgone
Pete Postlethwaite ... Captain Beams
Colm Meaney ... Major Ambrose
Mac Andrews ... General Daniel Webb
Malcolm Storry ... Mr. Phelps
David Schofield ... Sergeant Major
Eric D. Sandgren ... Coureur De Bois
Mike Phillips ... Great Huron Sachem MIKE PHILLIPS: THE SACHEM SPEAKS
Mark A. Baker ... Colonial Man ON THE TRAIL WITH ... MARK A. BAKER || THE SCRIPT & THE MATTER OF HISTORICAL ACCURACY
Dylan Baker & Mark Edrys (voiceover) ... Bougainville
Tim Hopper ... Ian
Gregory Zaragoza ... Abenaki Chief
Scott Means ... Abenaki Warrior
William J. Bozic Jr. ... French Artillery Officer SEE: MORE MOHICAN MUSINGS
Patrick Fitzgerald ... Webb's Adjutant
Mark Joy ... Henri
Steve Keator ... Colonial Representative
Don Tilley ... Colonial #1
Thomas E. Cummings ... Colonial #2
David Mark Farrow ... Guard
Ethan James Fugate ... French Sappeur
F. Curtis Gaston ... Soldier #1 THE EYES OF SOLDIER #1
Eric A. Hurley ... Soldier #2 THE WORLD OF SOLDIER #2
Jared Harris ... British Lieutenant
Michael McConnell ... Sentry
Thomas John McGowan ... Rich Merchant
Alice Papineau ... Huron Woman
Mark J. Maracle ... Sharitarish
Clark Heathcliffe ... Regimental Sergeant Major
Sebastian Roch� ... Martin
Joe Finnegan ... Redcoat #2
Sheila Adams Barnhill ... Humming Woman
Benton Jennings ... Scottish Officer

CREW
Produced by
Ned Dowd & Ellen Rauch (supervising)
Hunt Lowry
Michael Mann
James G. Robinson (executive)
First Assistant Director
Michael Waxman
Second Assistant Director
Daniel Stillman
Original Music by
Randy Edelman
Trevor Jones
Additional Music by:
Daniel Lanois
Dougie Maclean
Phil Cunningham
Ciar�n Brennan - I Will Find You - Clannad
Sound Design & Supervision
Lon E. Bender
Cinematography by
Dante Spinotti
Doug Milsome
Visual Consultants
Gusmano Cesaretti
Lee Teter THE VISUAL CONSULTANTS
Film Editing by
Dov Hoenig
Arthur Schmidt
Casting by
Bonnie Timmermann
Production Design by
Wolf Kroeger
Art Direction
Robert Guerra
Richard Holland
Set Decoration
Jim Erickson
James V. Kent
Set Design
Karl Martin
Masako Masuda
Costume Design
Elsa Zamparelli
On Set Dresser
Peter Gelfman
Makeup Department
Peter Robb-King ... Key Makeup Artist
John R. Bayless ... Rick Martinko TATTOO TANTALIZERS! ... Rita Parillo ... Jane Royle ... Jeff Goodwin MORE FROM UNDER THE MAKEUP TENT ... Joan Rieger ... Connie Boyer UNDER THE MAKE-UP TENT ... Mitzi Gunter ... Ronnie Watkins ... Eva M. Carlyon ... Sandra Orsolyak
Hair Department
Scott & Barbara Willis [among many others] HAIR DRESSERS' PHOTO GALLERY
Stunt Coordinator
Mickey Gilbert
Special Effects Coordinator
Tom Fisher
Trix Unlimited
Locations Manager
Michael Bigham SEE: AT THE BILTMORE ESTATE ... Photos
Construction Of Fort William Henry by
Prior Gibson/Priorty Group, LTD.
Extras & Location Casting
Shirley Fulton Crumley
Military Technical Advisor
Dale Dye
Technical Advisor & Trainer
David Webster
Reenactor Coordinator
Dale E. Fetzer, Jr.
Native American Coordinator
Alvin "Dutch" Lunak
18th Century Frontier Consultant
Lee Teter
18th Century Military Consultant
Phillip Haythornthwaite
Delaware Language Instructors
Glen Jacobs
Dale Dione
Killdeer Made by
Wayne P. Watson SEE: AUTHENTIC KILLDEER REPLICAS
Additional Guns by
Brian LeMaster
Custom Knives by
Randall King SEE: MOHICAN MUSINGS ... Part 8
Directed by
Michael Mann SEE: DIRECTOR'S EXPANDED EDITION OF THE LAST OF THE MOHICANS || MICHAEL MANN INTERVIEW NO, NOTHING DIRECTLY FROM MR. MANN HERE. HOWEVER, HE DID PURCHASE A QUANTITY OF OUR BOOKS & RESPONDED MOST FAVORABLY TO OUR TWO DIRECTOR'S CUT DRIVES!
Original Novel by
James Fenimore Cooper (1826)
Original Screenplay by
Philip Dunne (1936)
Michael Mann & Christopher Crowe (1992)

This is a partial listing only! Many other names, familiar in the credits, are scattered about this Web Site ... a tidbit here ... a morsel there. Leon Good Striker (stunts), for example, is pictured and discussed within the Soldier #2 pages; we've heard from the helicopter pilot who flew Mann & Bigham on location searches (SEE: MOHICAN MUSINGS ... Part 8), Prior Gibson, & several extras, among others. In addition, Noel T. Manning II, an uncredited A.D., contributed the PRE-PRODUCTION PHOTO GALLERY and James Neel passed along MY ADVENTURES IN MOHICANLAND!
ENJOY!