Bill Miller
... our 2002 Great Mohican Gathering musician
... 10 Years of Mohicans - The Film!

IT IS THE DREAM, IT IS THE VISION, IT IS THE DANCE, IT IS THE SONG I WILL SING FOR MY CREATOR ...
December 29, 1890, Wounded Knee, South Dakota. The sound of Hotchkiss gunfire echoes on the cold winter. Wind, punctuating the cries of 200 men, women, and children of the Ghostdance religious movement. In minutes, they lie dead in the snow on their way to a new promised land, they had danced for God, the Ghostdance ...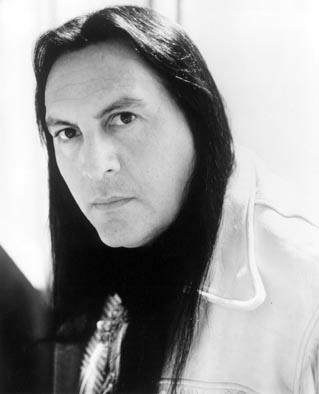 More than 100 years later, the dream lives on, embodied in the music of Bill Miller. Ghostdance is a cry from the deepest corners of his spirit, the sound of his soul. One of America's most notable Native artists, he has crafted an album that is uniquely American; equal parts modern urgency and timeless mysticism. In it he distills images gathered along his path as a singer, writer, musician, painter, husband, father, and seeker.
Where are you going, to a Ghostdance in the snow. Where are your warriors, I see they're finally coming home ...
Miller was raised on the Stockbridge-Munsee Reservation in Wisconsin, influenced as much

by the music of Jimi Hendrix, Bob Dylan, and Neil Young as by that of his Mohican heritage. Varied artistic pursuits, the rock 'n' roll he played in bands, his Indian flute music, and his painting would eventually coalesce in a music and pop audiences alike through albums like The Red Road and Raven in the Snow. With Ghostdance, Miller continues his musical and spiritual evolution.
I wanna stand where God is praised, I wanna ride across the plains to the Promised Land ...

Over his career, Bill Miller's fusion of his Native American heritage with modern folk and rock styles has proven to be a fruitful formula; he has garnered fans such as Bono, Tori Amos, Eddie Vedder and others. It doesn't hurt that he's a consummate guitarist with an incredible ear for the texture and tone of his instrument either, but Miller's vibrato-soaked voice and the messages in his lyrics place him far above more run-of-the-mill singer-songwriters.
I heard a voice callin' out to me, might've been a vision, might've been a dream ...
VISIT BILL'S SITE: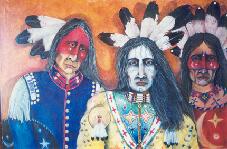 Above original artwork by Bill Miller. Bill will have items for sale available at the 2002 Great Mohican Gathering.
We are pleased to offer Bill Miller's talents as a part of the 2002 Great Mohican Gathering - The Fifth Annual Edition. In order to enjoy the Miller concert, you must be an attendee of the Gathering and enjoy an opening night dinner at Sprits on the River! Sign up now!
EVENT NOW PASSED, BUT SEE HIM IN YOUR AREA IF YOU CAN - A TREAT!