THE LAST OF THE MOHICANS PLAYSET


~~~ SORRY, SOLD OUT!
BARZSO SAYS THIS WAS THEIR ALL-TIME BEST-SELLING PLAY SET!
REQUEST MORE! ~~~~
~~~~ SEE BARZSO SITE [LINK BELOW] FOR OTHER GREAT SETS, INCLUDING THE NEW BRADDOCK'S DEFEAT! ~~~
Remember the feeling you had as a kid when you received a playset for a present? Looking at the box, opening those little bags that contained treasures never seen, setting up for the first time ... well, you can recapture those memories with a BARZSO PLAYSET.

BARZSO PLAYSETS is a small American company that makes detailed, historically accurate plastic toy soldiers and sets for adult collectors. We hire museum diaramists to sculpt the originals and package them in a 50's-style box reminiscent of the playsets of yesterday. All BARZSO PLAYSETS products come with a 90 day money back guarantee and all parts are proudly made in the USA ... Sincerely ... Ron Barzso (Owner, Barzso Playsets)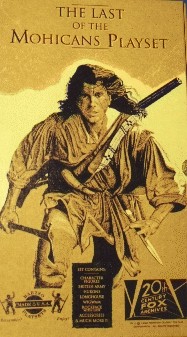 Packaged in a sturdy, and attractive, box (above), this playset is fully licensed by 20th Century Fox. Set designer, Wolf Kroeger, in fact, looked over the plans and gave his approval. There is nothing quite like this set! It is THE official The Last of the Mohicans playset ...
... Rare in film or plastic today does the sense of the past, the dangers of the wilderness warfare, or the visual romance of the early American landscape come so alive as in The Last of the Mohicans playset from 20th Century Fox and Barzso Playsets ... Alan J. Adler (Director, 20th Century Fox Archives)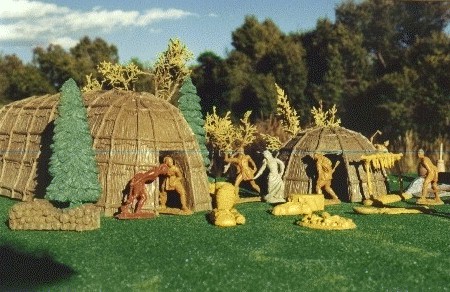 The intricate detail of this playset is incredible. Not just some hunk of plastic is this. The cliff is well-constructed foam material, in color ... as are many of the other pieces ... perfect for accentuating the crevices, nooks & crannies, and ensuring a realistic look. There are accessories to re-create the Cliff Scene, the Village Scene, and a Battle Scene. British troops, Huron warriors, Mohawk scouts ... all included. There is a longhouse & a wigwam, plus other Indian village necessities like a cooking fire, meat drying rack and more. There are boulders, fallen trees, barrels ... Our 12 year old son, a collector of playsets and miniature soldiers, exclaimed, "This is the most detailed set I've ever seen!" We agree! Well remembering MY childhood playsets, Fort Apache among them, we can attest to the fact that there is a quality to the pieces not found in other playsets on the market.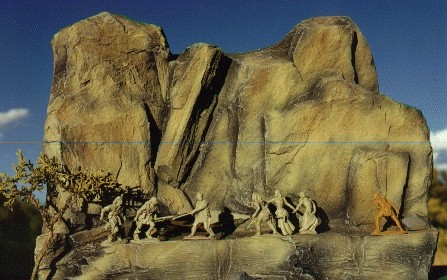 The complete boxed set includes: 7 character figures, rock face with cliff, Indian village with longhouse & wigwam, 20 Huron warriors, 5 Mohawk scouts, 15 British infantry, pine trees, British troop accessory bag, Indian village accessory bag, fallen trees & other terrain accessories... all packed in the commemorative box. A real treat! Kids will love this set, as will the avid collecter.
Included, as well, for a limited time only, is an autographed photo of Wes Studi as Magua!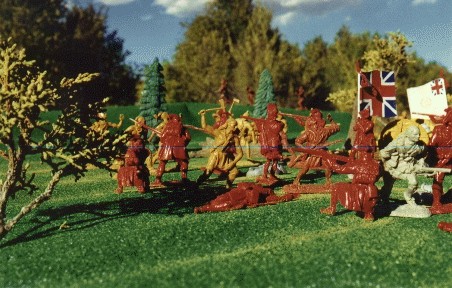 Hawkeye Figure


Hand Cart Accessory


Uncas, Magua & Chingachgook Figures


Cora, Alice, Duncan & Hawkeye Figures

To Order:

Send Check or Money Order To:

Barzso Playsets
28 W. 177 Marion Road
Winfield, Illinois 60190

Questions? Call:

630-690-7608 - ask for Ron

Cost is $159.95 per Complete Boxed Set,
plus &12.00 S & H

Additional Bagged Sets are available! You can add more British soldiers, Huron warriors, and other figures and accessories. Most additional bagged sets are $19.95 plus $4.50 S & H. Call for other details on available accessories & sets!.

Visit The Barzso Playsets Web Site!