Ariel's Little Corner of Mohicanland
... A Time To Help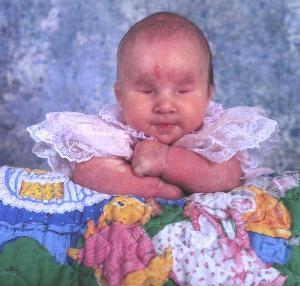 ... from the Mohican Board, February 7, 2001 ... posted by Kate Penman
To all the wonderful, GENEROUS, caring, (oh hey! Did I say GENEROUS?) citizens of Mohicanland:

Saying hi to Ellen and Jill, not to mention Theresa, another newcomer, and thinking of their kind gestures in offering donations to Ariel's Cabin, before they had even introduced themselves, got me to thinking that perhaps it was time to remind all the 'GENEROUS' citizens of Mohicanland about how to get THEIR names in the tabloids... oops, the PAPERS, now I MEANT the papers!! The Courier to be exact! (Sorry! Not really much better than the Tabloids, is it, when all's said and done??!!)

ANYWAY, you guys all know that we 'Gather' at Chimney Rock and other locations to see that wonderful scenery we (most of us, anyway!) first glimpsed in our favourite film 'Last of the Mohicans'. We're really fortunate - we can gaze out over 'them thar hills' and take in one of the sweetest sights in God's kingdom (and I've seen plenty sights, let me tell ya'!! Some worse than others!!). However, there is one little girl in Canada, that will NEVER see the sun rise over those beautiful blue mountains at 5:45am (!! Sheesh!!), or drool and dribble at the heart stopping sight of those teesy little loincloths on those beautiful, lean bodi... Sorry, sorry, sorry!!! I got a little carried away... (gotta get a grip, here!) *sheepish grin*

'Gathering' myself for the serious stuff here: Ariel will never see what we will see in June. Ariel will eventually learn to visualise, using touch to formulate a sense of shape. But she will NEVER actually see that most wonderful film that we love to bits!!

However, through the wonders of medical science, she will have operations that will allow her supraorbital margins (eye sockets) to develop properly so that there is no pressure on her brain, she will have a degree of cosmetic work done which will go some way to 'normalising' the look of her eyes, which will aid greatly in her 'socialising' (I'm sorry but that IS the reality!). And she has many other medical problems, which will require medical intervention most of her life. This means her parents will have medical bills to pay all her life. And all this intervention does not/will not come cheap!!

But - a child with needs is not just the responsibility of his/her parents. A child in need is EVERYONE'S responsibility. And the good folks here in Mohicanland have NOT been ones to just sit on their hands when a child with problems needs some help! Ariel has become our mascot and in various ways, Mohicanland has contributed and donated, in order to raise funds to help with her medical expenses. At the Great Mohican Gathering 2000, a new cabin was 'built' -'Ariel's Cabin', which was stocked with merchandise supplied by the various Gatherers AND non-attendees and the fantastic sum of $1670. (Canadian) was raised!!!

Okay, now - here's where you get to help AGAIN!! 'Ariel's Cabin' will once more be operational at the Great Mohican Gathering 2001 and supplies will once more be needed!! Craft items, LOTM related items, 'colonial' type items - all will be greatly appreciated! Even if you can't 'relate' your donated item, don't let that stop you making that donation!! If you think someone else would like to buy it, then 'Ariel's Cabin' is willing to put it up for sale!! :o)

Already I have some VERY promising items being donated! Hey, Bill, no slacking!! I want to see RESULTS, man! And Betty? She's quilting as we speak?? Good, good! (No, I DIDN'T forget! :o) Christina, for goodness sake, quit whinging – just sew!!! (I don't know WHERE she gets all that 'treats us like lackeys, workers have RIGHTS, y'know' stuff!!) Okay, Rich, you got till the Easter holidays, then... I wanna know they're DONE!!! And there are others that are working HARD (caught that word, did you guys??!!) to get this years 'Cabin' stocked up! Yessir, we got some real nice lines... lined up for the next Gathering!!!

Like Ellen and Jill, and Theresa, all you have to do is contact me and let me know that you wish to help out! Now you know that time's a'passin' and Gathering time is comin'!!! BUT - there's still time to get those knitting needles or sewing needles out and movin'! And all those LOTM posters that are just cluttering up your walls, get 'em down, rolled up and ready to sell! They could clutter up someone ELSE'S walls for a change!! :o)

(MMMM, if I remember correctly, didn't I see a MOST WONDERFUL poster in your hallway?? *!&*$$*!@"&%!!* Sheesh, I wasn't asking for your house, your possessions, or your KITTIES, Miss!!! Just one EENSY WEENSY poster… Okay, so it's HUGE, it's FRAMED, and *HIS* locks are flowing as he fights his way to his sweetheart's side... dammit, *I* WANT it!!! Anyway, you CAN do it! (Miss Marcia can't, but…) YOU KNOW *YOU* CAN DO IT!! So…

Consider this... please consider this!

RYMHOS,
Miss Katie,
Proprieteress,
Ariel's Cabin.
... a little story
I was sitting in my back yard last September, doing some sewing for Ariel's Cabin, when this BIIIIG, 'rough' looking, hulking, walking muscle came to my door and asked if I would like the Beech trees in my back yard trimmed. Well, they WERE a bit scabby so, we haggled about the price and then I said okay go ahead – do it. Well, by golly, he hacked and he sawed and he pruned and worked like a Trojan for a good couple of hours!

Finally, he came over, said he was finished, looked at my patchwork and said 'how nice, that'll look good on the bed'. I told him I was making it to raise funds for the sweetest little girl who was born with no eyes, had a twisted spine, a backward aorta and a multitude of problems that come with these ones – and yet has a smile like the sun rising in the morning.

This BIIIIG, hulking, macho, tough, gruff, rough man's face crumpled, he cut the cost of the job in half, I gave him the other half – and he promptly gave me back half of THAT and told me to 'put it in the kitty for that poor little girl who will never see the Beech trees, or see the daisies in the grass or puffy little clouds gently moving in a blue sky on a summer's day'!!

So – no guesses where the first 'funds' of Gathering 2001 will have come from!!

Ariel touches the heart of EVERYONE who hears her name…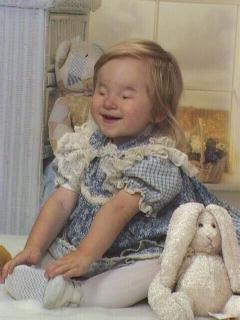 Alas, that was then ... this is now. Many things have changed, both here - in Mohicanland - and, most certainly, in the World. But, at least one thing has not ... and that is the plight of this poor, dear little girl. Ariel Boutette is still in dire need of the generosity of those who are more fortunate than she ...
For the past two years, at our annual Great Mohican Gatherings, we have begged & cajoled you to lend a hand in this worthy cause. Last year, total funds raised, because of the sheer will of the organizer, was $1,953.15 ... higher even than the prior year! We cannot expect that trend to continue ... but we do ask that you again reach deep within your pockets, and your heart, and contribute to this worthy cause. It's what makes us well ... inside.
Jayne Langan has voluntarily stepped forward, into the void left, to fill the shoes. Among all the volunteers who help to put the Great Mohican Gatherings together, this is, without a doubt, the most selfless of all. There is nothing to gain personally, yet so much so for our unofficial Mascot, Ariel. Please help Jayne make this year's effort a success!
Why should I help, you ask? Look at this girl ...
Any other questions? Oh ... OK ... HOW can I help? Good question! Jayne cannot do this alone. Donate items ... Gathering-attendee or not ... hand-crafted or store bought ... LOTM-themed or not ... but do donate. Then, if you are AT the Gathering, bid on an item of your choice. It's that simple. Every single penny raised goes directly to Ariel & her family.
Contact Jayne via E-Mail, right now, with your donation idea or question ... "time's a'wastin'"!
... from the Mohican Board, March 10, 2002 ... posted by Jayne Langan
Hello, everyone!

Anyone who has been to a Gathering is no stranger to Ariel Boutette, a sweet little 3 year old who was born in Alberta, Canada, with no eyes and various other congenital defects affecting her heart, lungs, and spinal cord. She has had many surgeries and more to come. Amazingly, she has continued to progress (i.e. taking steps, pulling herself up to furniture, etc) despite the major difficulties facing her from day one. Her progress is due to not only the wonderful advances in medical treatments, but also from the tender loving care of her family and friends.

And here's where we come in. As this year's Ariel's Cabin organizer (silent auction fundraiser at the Gathering), I offer you the opportunity to help out this little girl and her family with some of their financial needs. First, spend a few minutes at her website http://www.noeyes.com. You'll see firsthand what a cutie she is as well as see pics of her family. Then, you can contact me at CLICK HERE with donations of auction items (even if you can't make it to the gathering). We'll have the auction at the Gathering in June, and send proceeds to Ariel's family.

Time's a-wastin', so let me know of any items you might want to donate and I'll put them on my list. Items don't have to be LOTM related and can be homemade or purchased.

Can't wait to hear from you all!

Your official Ariel's Cabin organizer,
Jayne
And that's that ... please help!
2002's FINAL TALLY: $1261! [US $]
"There is always one moment in childhood when the door opens and lets the future in."
(Graham Greene)
Unable
Unable to see the world around you
Unable to see the clouds above
Unable to see the color blue
Or what your reflection looks like in the mirror
All these precious things we take for granted
All these thing we don't seem to think twice about
Until one day
When our loved one come into this world
Missing only one thing
The eyes that help you see
Born blind
Unable to see what lies around her
Unable to experience the beauty we do
Unable to look into her mother's eyes
The colors, the shapes, facial expressions
All this has no meaning
Why? was a common asked question
But nobody knows
No eyes means nothing
For she will never miss what she never had
A family to take care of her
Love from everywhere
She is beautiful and healthy
And there is nothing more
That one could possibly do
She'll grow just like any other
Not thinking that she is different
Independent she will become
And off she goes in her little world
As if nothing was ever wrong
She'll walk through the park on a sunny morning
Catch the smile on your face
Capture the emotions that lie within
And one day she will picture it
That way that she believes it to be
No eyes
This means nothing
For she will grow and prosper
Just like any other
And powerless she will not be
For her strength within will pull her through
By Melissa M. Boutette
Ariel Boutette's cousin
2008 GREAT MOHICAN GATHERING - ARIEL ATTENDS!
2010 GREAT MOHICAN GATHERING - ARIEL ATTENDS AGAIN!